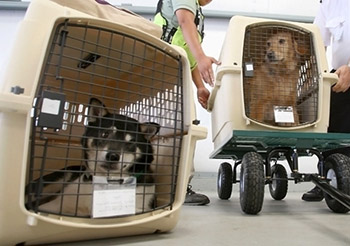 Pets and birds are transported as luggage:
When complying with the rules of import and export of animals and the rules of veterinary control of the countries of departure, transfer, destination.
A veterinary certificate and, if necessary, a permit for the export of animals, obtained from the relevant authorities of the countries of departure and destination
If a request for transportation of an animal must be made on the reservation and confirmed by the center.
Pets and birds are accepted for carriage only if accompanied by adult passengers.
For transportation of animals and birds, the passenger is obliged to provide a container (cage) of sufficient size and with access to air. The bottom of the container (cage) must be waterproof and covered with absorbent material, and the door must be locked.
The cage (container) for the animal carried in the passenger cabin shall not exceed the dimensions specified for hand luggage 115 cm on the sum of three dimensions, the recommended dimensions being 46x28x24 cm. The design of the container (cage) shall provide for sufficient access of air. The bottom of the container (cage) shall be waterproof and covered with absorbent material, and the door shall be locked. As an exception, it is allowed to transport animals and birds in tightly closed baskets, travel bags, boxes with holes for air access. The cage of birds should be covered with dense, light-tight cloth.
In the passenger cabin of an aircraft it is allowed to carry:
Dogs, cats, birds, whose weight together with the container (cage) does not exceed 8 kg. The weight of such animals is not included in free baggage allowance and is paid according to the rules set for excess baggage.
There is no weight limit and no charge for special or excess baggage for guide dogs for the blind and deaf passengers, provided that the animal has a collar and a muzzle on and is tied up at passenger's feet. Passengers with deafness must have relevant medical documents confirming the presence of deafness.
Animals and birds with a weight exceeding 8 kg with the cage are carried only in the luggage compartments of the aircraft as checked baggage.
Transportation of animals in the cabin and baggage compartment is possible on the following aircraft:
On A320/A321 aircraft, pets can only be transported in the aircraft cabin.
 
Animals are not allowed on L410 aircraft.
Airlines reserves the right to refuse to carry an animal for operational reasons related to the conditions of the flight.