Restrictions on imports of plants and products of the phytogenesis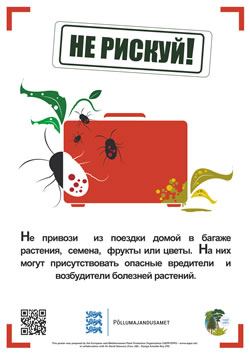 Dear passengers!
Please take note of the restrictions on import of plants and products of the phytogenesis when travelling to EU countries from Uzbekistan airports.
Strict rules on import of fruits, vegetables and other products of the phytogenesis to EU, up to outright ban on its import are imposed due to the danger of various diseases, transmitted via products of phytogenesis, and also to their hazard to agriculture and food products manufacturing in case of penetration of infected goods.
Please be informed, that all passengers travelling to EU who keep products in their checked baggage or carry-on baggage, which are subject to phytusanitary control at the destination point, must produce an original of valid phytosanitary certificate.
This type of products must be declared to Custom service or Quarantine service on arrival to the destination point.
For detailed information on import of any product to EU, please follow the link: https://www.eppo.int/PUBLICATIONS/poster/poster&leaflet.htm