Due to onboard service update, aimed to prevent the spread of coronavirus infection (COVID-2019), we have temporarily suspended some facilities, including the loading of IPADs for business class passengers and printed media (newspapers and magazines) on board. For passengers service we use only disposable products. We realize that accepted measures affect on the service quality, but the passengers and staff's health is our priority. We do apologize for this inconvenience and thank you for your understanding.
Air travel was a luxury once. Today's aviation is a usual mode of transport – fast and safe. An airplane is not a restaurant or a cinema, of course, but a flight is like a forced break from your everyday duties and leisure activities. Sometimes it lasts two or so hours, sometimes eight hours or even longer.      
Uzbekistan Airways offers its passengers a variety of on-board time-filling activities: listening to music, watching films, reading papers and magazines, entertaining your child, learning facts about  Uzbekistan Airways, getting comprehensive information on Uzbekistan and going on a virtual tour of the country's cities, shopping at Sky Shop, enjoying delicious meals, etc.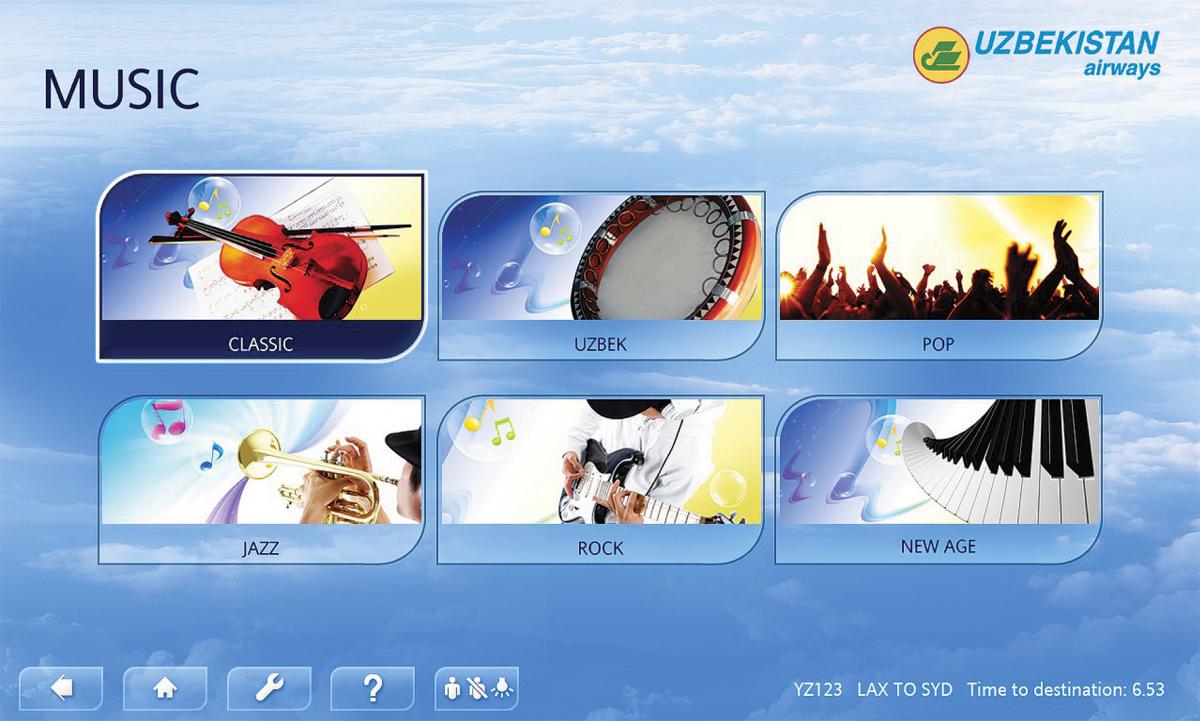 If you fly business class, you can charge and use your own device – an iPod, a phone, a laptop, etc. Just plug yours into the 110VAC power supply unit in your seat. Every seat is equipped with all necessary facilities for work, rest and entertainment. The new Boeing-767-300ER aircraft of Uzbekistan Airways feature the up-to-date entertainment system eX2.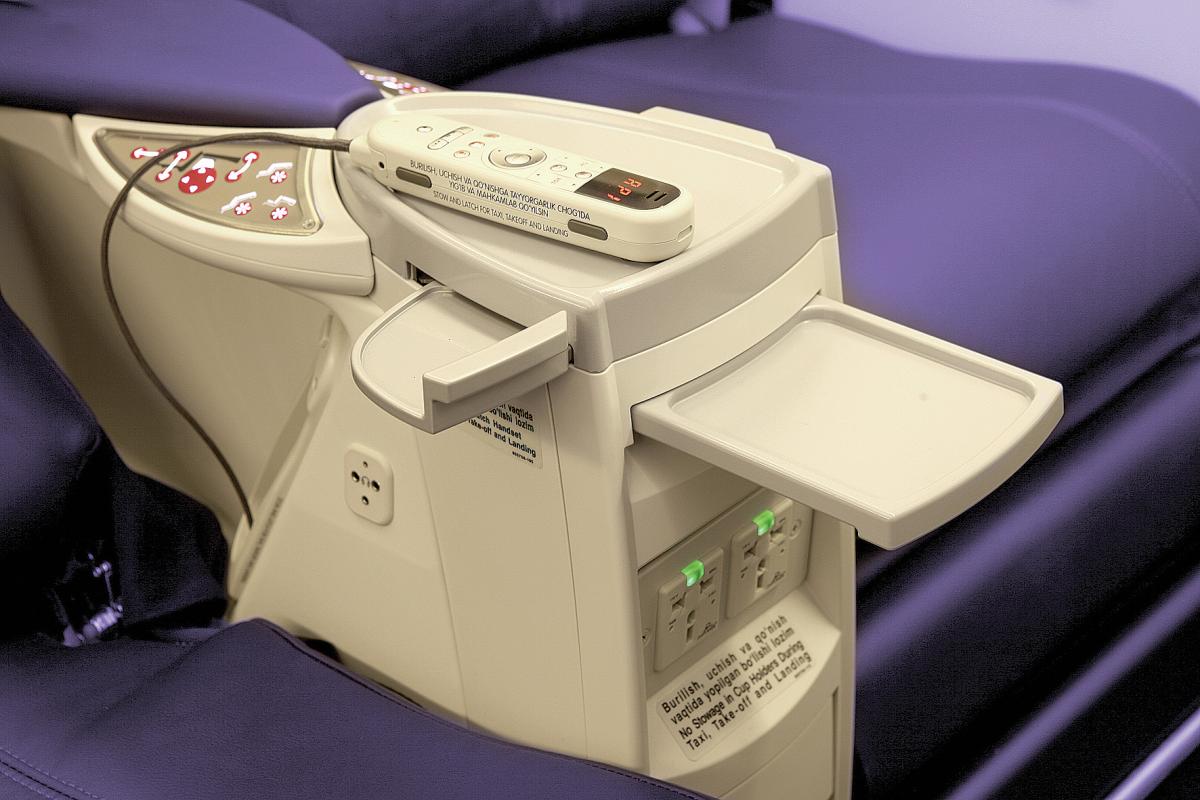 A remote and an individual 15-inch digital screen will allow you to play, stop and rewind your entertainment programmes. Whatever you decide to fill your time with – listening to music, watching films or photos from your flash drive, or playing video games – there are a lot of multimedia system channels at your disposal.        
You can play a game with a computer or a passenger in any cabin aboard.  Just choose a game and invite someone to join it.
The online flight information system VOYAGER will provide you with the current flight speed, outside temperature, time left until you reach the destination, exact arrival time and other flight data. You can also see your route map progress online.
"Days Gone By"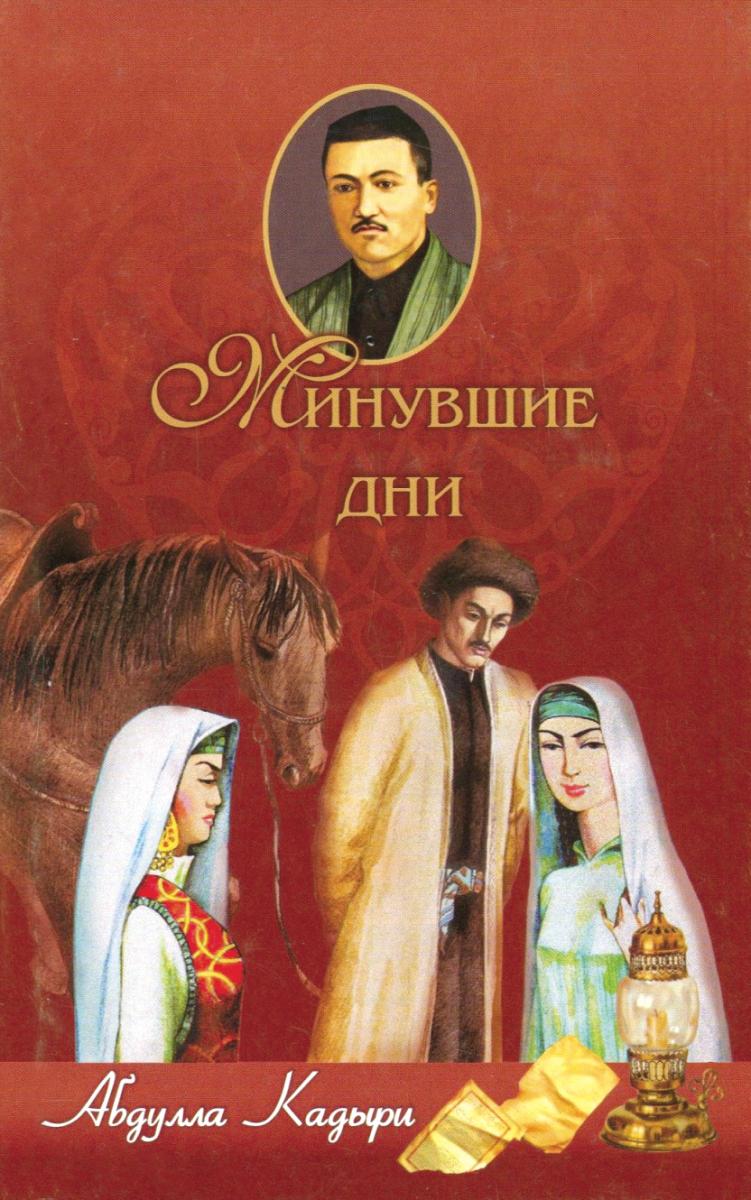 The film is based on the novel Days Gone By by Abdulla Kodiriy, an Uzbek and Soviet poet,  writer and translator. The setting is Tashkent at the beginning of the 19th century. The film shows the atmosphere of fierce conflicts between feudal lords and their greed for power, suppression of human freedom, and dominance of family traditions. Their victims are Kumush and Atabek who are in love with each other.         
Director: Yuldash Agzamov
Starring: Ulmas Alikhdzhaev, Gulchekhra Djamilova, Abbas Bakirov, Khabib Narimanov, Rakhim Pirmukhamedov, Nabi Rakhimov, Khamza Umarov, Djavlon Khamraev, Razzak Khamraev
Release date: 1969
"Loving Ones"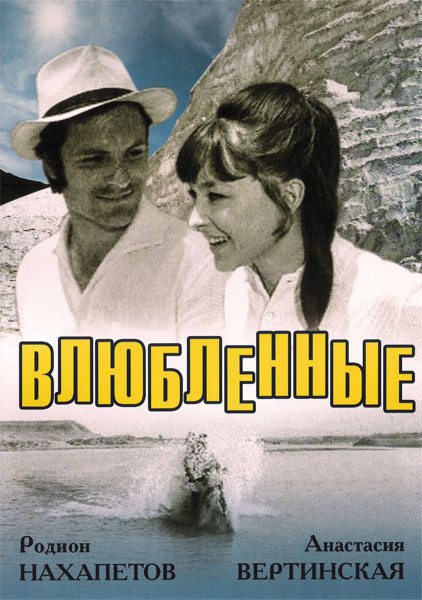 The film is a lyric story about young people, their search for the truth and first hard experiences of love. There are three main characters in the film. Rodion – a kind person of moral integrity – is deeply distressed by the breakup of the relationship with the girl who does not love him. He himself starts the breakup to let her be free from having to lie and suffer from discomfort.
Rustam's life is different. He is talented and loved. The third man, of Greek origin, returns to his ancestral land where he has found his mother and sister.      
Director: Elior Ishmukhamedov
Starring: Rodion Nakhapetov, Anastasiya Vertinskaya, Rustam Sagdullaev, Gyuzel Apanaeva, Karen Khachaturyan, Sergey Gurzo, Ulugbek Salakhutdinov, Khamza Umarov, Nelya Anatullaeva, Rustam Zakirov
Release date: 1969
"Suyunchi" (Grandma General)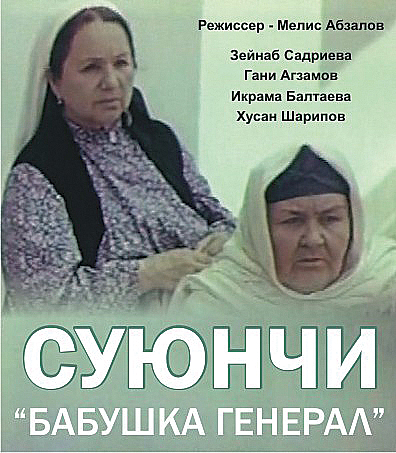 The protagonist is an elderly woman named Anzirat. She lives with her son's family in an Uzbek village. Her neighbours do not really like her, for she is very strict and authoritarian. Feeling she is going to die soon, Anzirat tries to put everything in order for her family. Her son, however, is busy building a family football team. He wants his wife to give birth to a boy.     
Director: Melis Abzalov
Starring: Zainab Sadrieva, Gani Agzamov, Ikroma Boltaeva, Khusan Sharipov
Release date: 1982
"The Mischievous Boy"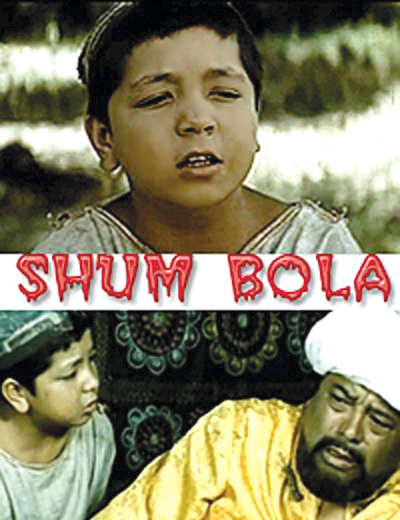 The film is based on the novel The Mischievous Boy by Gafur Gulom, an Uzbek and Soviet poet, writer and translator. The film is considered to be one of the best Uzbek films. It is about a boy's adventures, during which he meets various people and deals with various life situations.   
Director: Damir Salimov
Starring: Abduraim Abduvakhobov, Khamza Umarov, Vakhid Kadyrov, Abdulkhair Kasymov, Bakhtiyor Ikhtiyarov, Ergash Karimov, Sagdi Tabibullaev
Release date: 1977
"Abdullahjon"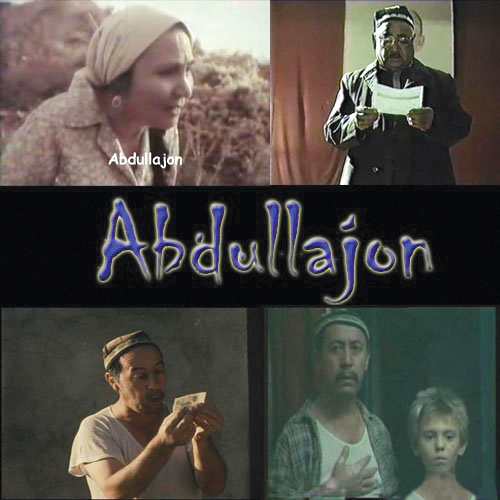 The alien spacecraft crashed in the collective farm "Communism" (Uzbekistan). Farmer Bazarbay Narmatov, finds an injured alien boy who survived after the crash. The farmer takes boy home and names him Abdullahjon. Bazarbay told nothing to his neighborhood about the origin of the boy. So, the alien guest was accepted to be  Bazarbay`s illegitimate son. Abdullahjon, or Dedicated to Steven Spielberg – fantastic comedy about an alien in Uzbek neighborhood.                 
 Director: Zulfikar Musakov
Starring: Rajab Adashev, Tuygee Aripov, Tutee Yusupova, Shukrat Kayumov, Vladimir Menshov, Vladimir Cvetov, MIrkhosil Oripov, Javlon Khamraev, Sergei Dontsov, Khojiakbar Nurmatov, Jamol Khoshimov, Abror Tursunov, Zokir Muminov, ulmas Yusupov.
Release date: 1991
"Stranger" (Telba)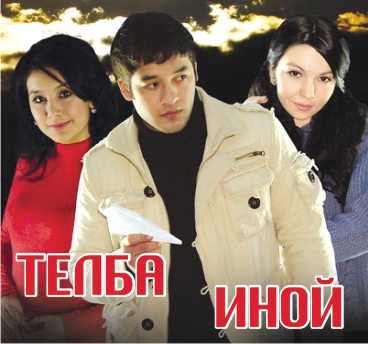 He is poor and she is rich. He is a simple street vendor and uses public transport. She is a student of a university and drives her own car. Seems to be an old love story but everyone has a chance to have a new personal view. 
Director: Ayub Shabidinnov
Staring: Ulugbek Kodyrov, Dilnoza Kubaeva.
Release date: 2008